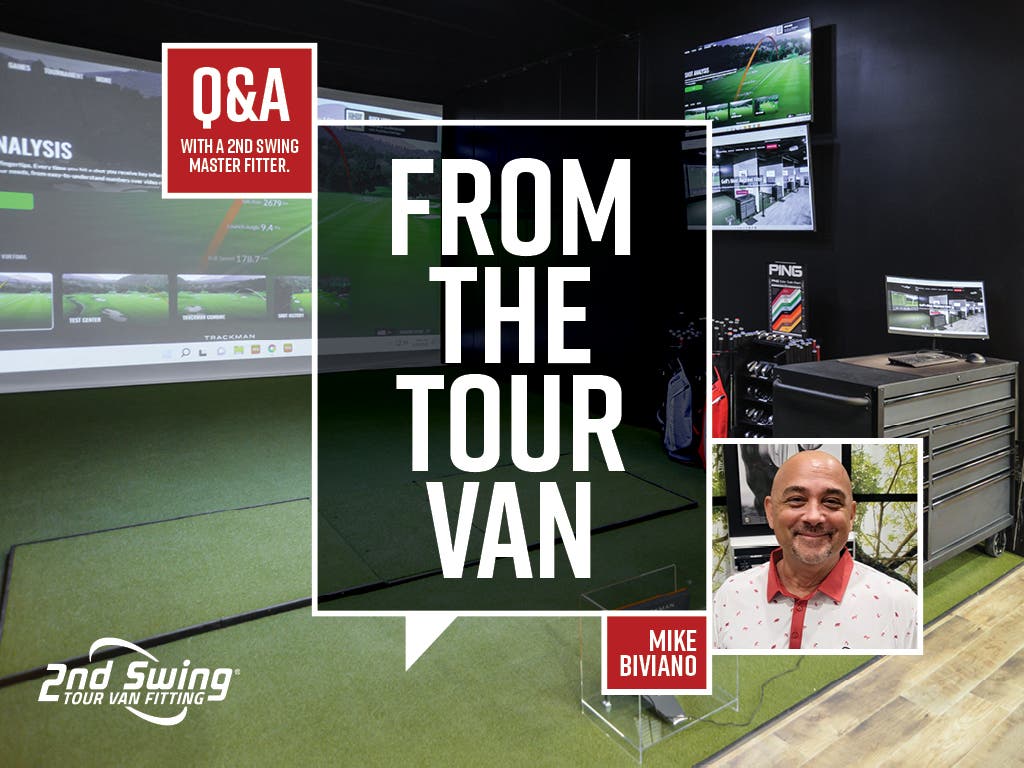 From The Tour Van: 2nd Swing Master Fitter Mike Biviano
November 08, 2023
Introducing a new series called From The Tour Van, a short question-and-answer segment with the certified master club fitters of 2nd Swing. Through six retail store locations and an online store at 2ndswing.com, 2nd Swing Golf has the most experienced and knowledgeable staff of club fitters in the industry. Golfers can click here to schedule an award-winning 2nd Swing club fitting.
This edition of From The Tour Van features Mike Biviano, who boasts an impressive resume in the game of golf. Mike has served as a club fitter for a plethora of the best PGA Tour and LPGA Tour professionals, in addition to celebrities, professional athletes, and recreational amateurs.
In total, Mike has been in the golf industry for over 30 years working for a handful of the most recognizable companies in the game, including Royal Precision, Callaway Golf, True Temper, and Bettinardi. He has fit clubs for over 100 PGA Tour winners and 27 major champions.
Now, Mike is a master club fitter at 2nd Swing's store in Scottsdale, specializing in putter fittings. Below is our short Q&A with Mike.
During your career working with Tour professionals, which one did you learn the most from and why?
MIKE BIVIANO: Phil Mickelson, without a doubt. He showed me right away just how good some of those guys are, and how important great equipment meant to their success. When I started working with Phil, he had graphite in his irons. He helped with the prototype testing of Project X shafts and it changed his career. That was cool to be a part of.
How would you describe the similarities and differences between working with Tour professionals and working with amateur players in the 2nd Swing Tour Van?
MIKE BIVIANO: Believe it or not, in the putting world, tour players and amateurs can compete! It's not a straight issue. There is lots of nuance involved in putter fittings. And in many cases, amateur players naturally have really good putting strokes, whereas Tour pros have a tougher time naturally executing a putting stroke. The big advantage, of course, that a Tour player has is that golf is their livelihood. They practice all the time. Most amateurs struggle to get any practice in at all between rounds.
There's been a huge spike in the popularity of 7-woods and 9-woods lately. Why are high-lofted fairway woods so beneficial for amateur players?
MIKE BIVIANO: I have played a 7-wood for almost 20 years! It's versatile. You can hit it high, hit it low, hit it off the tee, hit it from the rough, hit it from a bunker, AND you can chip with it. Remember, loft is your friend. This is still true with fairway woods. Moving to a 7-wood or 9-wood does NOT mean you have a lack of talent. It just means you're looking for certain launch properties, and these clubs help you hit those launch properties easier.
What do you see is the biggest mistake golfers make when buying clubs?
MIKE BIVIANO: First and foremost, so many golfers don't get fit at all. And they should. But more specifically, so many golfers have the wrong shaft flex in the bag. It's incredible how much I help the performance for golfers right off the bat in fittings just by identifying the right shaft flex for them. Most golfers have shafts that are too soft, which creates all kinds of unpredictability.
What are golfers missing out on if they do not get fit for clubs?
MIKE BIVIANO:You're only as good as your fit. If you are playing clubs that aren't fit for your swing, naturally, the result is a tremendous amount of manipulating. And we (myself included) stink at manipulating golf clubs that don't fit us to try to make them work. It's much easier to just get fit!