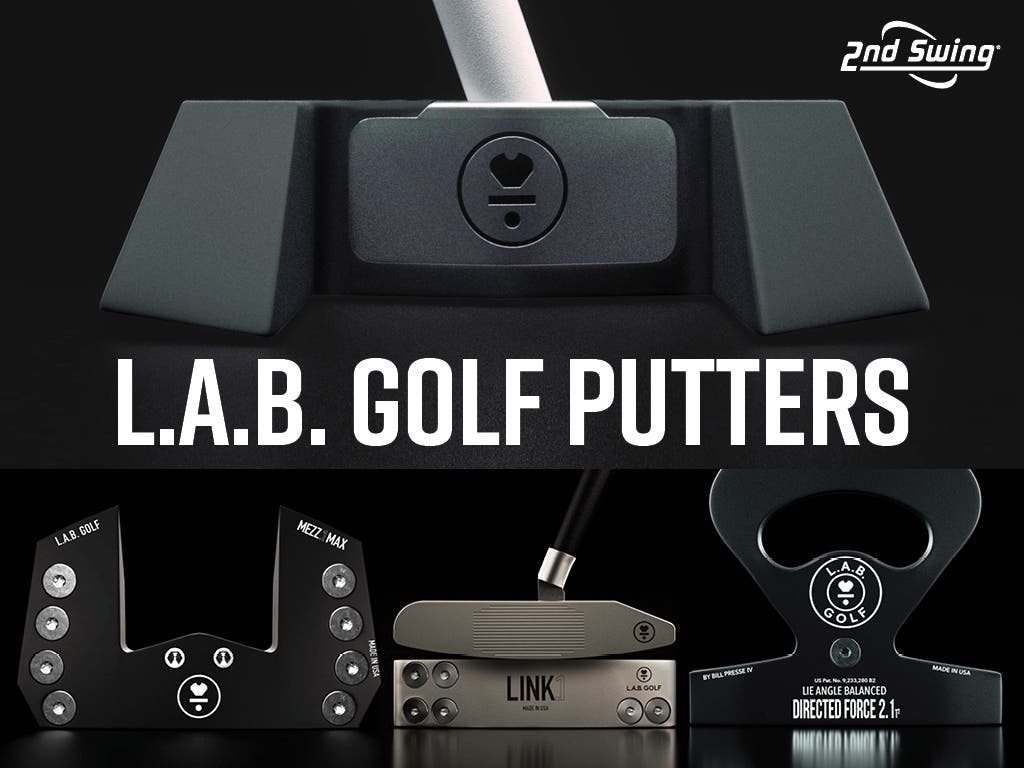 L.A.B. Golf continues to gain momentum with Camilo Villegas' win
November 15, 2023
Sunday at the Butterfield Bermuda Championship marked a big win for Camilo Villegas, and another victory for L.A.B. Golf. For Villegas, it was his first win in 9 years, while for L.A.B. golf, Villegas' victory was just the latest of a Tour winner using one of their putters.

Maybe you've heard of L.A.B. Golf, or you've seen one of their putters being played on Tour, or even seen one at 2nd Swing, but many don't know much about the company that's been making waves among professional golfers.

L.A.B. stands for Lie Angle Balance. L.A.B. Golf has created putters that have eliminated torque and twisting throughout the putting stroke, and in doing so, keep the face square at impact. While they can't choose your line, or read your putt, L.A.B. Golf putters reduce as many variables in a putting stroke as possible to help golfers gain confidence on the greens.

That added confidence has helped several pros get to the winner's circle on the PGA Tour. Camilo Villegas is the latest with his win in Bermuda, but his victory wasn't a flukey performance, but rather a sign of consistency in the Colombian's game after he finished in a tie for 2nd in the World Wide Technology Championship the week prior. A big part of that consistency has been fueled by his putting. He averaged 1.63 putts per Green in Regulation during his win in Bermuda, which was 11th best in the field. Even though he didn't win at the World Wide Technology Championship, his putting in terms of putts per green in regulation was actually better, averaging 1.61 putts per GIR, which was 4th best.

Villegas hasn't played with a L.A.B. putter for long either. Following his win at the Butterfield Bermuda Championship, Villegas eluded to the 2022 Presidents Cup and Adam Scott as part of his reasoning for giving the L.A.B. putter a try. Adam Scott, who is the most notable name to use a L.A.B. putter, was rolling the ball well with his L.A.B. Mezz.1 Prototype Broomstick putter, so much so that Villegas opted to give it a try, and liked what he felt. While Villegas doesn't use the broomstick version, he liked the feel enough to try it out for himself, and so far the results speak for themselves.

Earlier this summer, there was no hotter player on the planet than Lucas Glover, who won the Wyndham Championship and FedEx St. Jude Championship in back-to-back weeks. Playing a pivotal role in those wins, you guessed it, a L.A.B. putter, playing the same Mezz.1 Broomstick that Adam Scott uses.

Interested in a L.A.B. Golf putter? We have several models in-stock at 2nd Swing including the original L.A.B. putter, the Directed Force 2.1, which L.A.B. Golf even describes as looking like a branding iron. Both mallet models Mezz.1 and Mezz.1 Max are also available. The Mezz.1 Max is available as a broomstick, armlock or standard putter. Then there's the more traditional blade options in the Link 1 and B.2 putters that are also available.