Four Steps to Choosing the Right 818 Hybrid:
Should I play 818 H1 or 818 H2 hybrids?
How many hybrids should I have?
What lofts should I be using in my hybrids?
What type of hybrid shaft do I need?
Titleist 818 Hybrids:
Delivering Length and Accuracy to Everyone
The Titleist 818 hybrids have taken the best components of past hybrid models and improved them through the use of additional customization and adjustability settings. Both models, the 818 H1 and the 818 H2, include the Active Recoil Channel 2.0, which is visible just behind the leading edge on the sole. The Active Recoil Channel has been redesigned with a polymer insert to generate more explosive distance on contact made all over the clubface through improved face flexing. Titleist has also incorporated Titleist SureFit technology in the form of an adjustable weight system on the sole and an adjustable hosel. The SureFit CG adjustable weight system allows golfers the ability to efficiently alter the center of gravity to optimize spin and shot trajectory. The SureFit hosel features 16 unique loft and lie adjustments that can also be used to optimize spin and launch conditions.
Exclusive Titleist 818 Hybrid Video Content
Titleist 818 Hybrids H1 vs. H2 Comparison
Learn more about the differences between the 818 H1 and 818 H2 hybrids from Josh Talge of Titleist.
Exploring Titleist's SureFit Hosel
2nd Swing's Thomas Campbell explains how Titleist's SureFit hosel helps optimize performance with your 818 Hybrids.
| | H1 Hybrid | H2 Hybrid |
| --- | --- | --- |
| Handicap | Higher | Lower |
| Head Size | Larger | Smaller |
| Spin Characteristics | Higher | Lower |
| Launch Characteristics | Higher | Lower |
| Workability | Lower | Higher |
Shop Titleist 818 Hybrids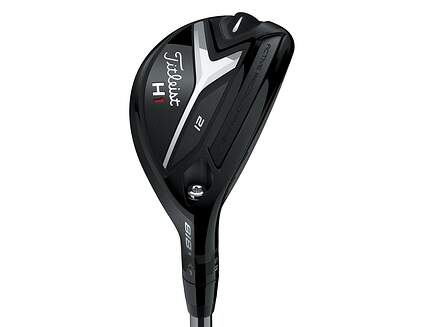 Certified Pre-Owned
From $69.99
Originally $279.99 // Save $210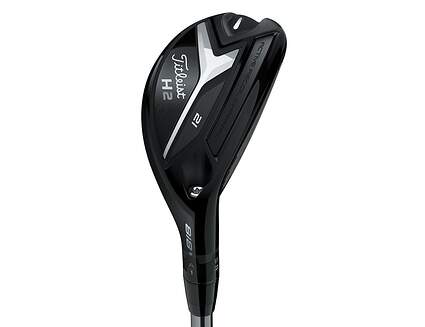 Certified Pre-Owned
From $69.99
Originally $279.99 // Save $210
Titleist 818 Hybrid Selection FAQ
Q: How do the 818 H1 and 818 H2 hybrids differ?
A: The 818 H1 and 818 H2 hybrids are both designed to deliver distance and accuracy, but they do offer different clubhead shapes and playing characteristics to fit different types of players. The 818 H1 has a larger and deeper clubhead for golfers that prefer the look of a fairway wood. Additionally, the center of gravity is dropped a bit lower in the 818 H1 for golfers that strike the ball with a sweeping motion or simply want a higher launch. Meanwhile, the 818 H2 is designed with a more compact shape like that of an iron, delivering more workability with lower launch and spin.

Q: How many hybrids should I have in my bag?
A: This will differ depending on the player, but most golfers should have one, two, or three hybrids in their golf bags. The answer depends on how comfortable you are hitting longer irons, and how consistent your contact is with longer irons. If you struggle with a 4-iron and 5-iron, you may need two or three hybrids in your bag to bridge the gap between your fairway wood(s) and your irons. If you make solid contact consistently with your longer irons, you may only need one. At any rate, it's important to gap your clubs properly so that there isn't a giant distance gap between how far you hit your fairway wood(s) and your hybrid.

Q: What's the best way to determine the hybrids lofts I need?
A: To answer this question, it's important to look at the setup of your fairway woods and irons. Specifically, you'll want to look at the loft of your highest-lofted fairway wood and your lowest-lofted iron. We want to keep around four or five degrees of loft between each club for consistent distance gapping. So, for example, if your highest-lofted fairway wood is 18 degrees and your lowest-lofted iron is 26 degrees, you'll want to add two hybrids to your bag.

Q: What's the best choice for me if I have a hard time hitting hybrids from the turf?
A: If you struggle lifting the ball off the turf, the 818 H1 hybrid is likely the better option for you. The larger, deeper clubhead provides more forgiveness on mis-hits and the lower center of gravity is designed to increase launch. The 818 H2 hybrid, meanwhile, is designed to generate a lower launch with lower spin for golfers who struggle with hitting the ball too high or with too much spin.

Q: Are the 818 H2 hybrids only for low-handicappers?
A: No. Most low-handicappers will fit into an 818 H2 hybrid just because of the playing characteristics offered. Lower spin, lower launch, and more workability are generally preferred by better golfers. However, plenty of low-handicap golfers struggle with hitting the ball too low or need some extra spin to keep the ball from running out on the greens. For these golfers, the 818 H1 is likely the better option. Meanwhile, a mid- or high-handicap golfer might be struggling with too much spin and be in the market for a lower-spinning option, and the 818 H2 could fit that player.

Q: What's the best way to identify the hybrid shaft that's best for my game?
A: If you are unable to go through a fitting with one of 2nd Swing's award-winning fitters, you can still identify the shaft that is best for your game. Golfers with faster swing speeds and quicker tempos are a fit for a heavier stiff or x-stiff flex shaft. Meanwhile, slower swing speeds and slower tempos will fit into a lighter shaft with more flex. It's important to note that selecting the correct shaft is not just about raw swing speed, but the swing tempo also matters just as much.

Q: How does the Titleist adjustable hosel work?
A: The SureFit hosel has been a popular and successful feature with Titleist metalwoods for several generations now, and its availability in the TS fairway woods gives golfers 16 settings that they can take advantage of to dial in performance. More specifically, loft can be increased by 1.5 degrees or decreased by .75 degrees, and players can also make independent lie angle changes to influence ball flight. That said, it's important to understand that making loft changes using the SureFit hosel also changes face angle. When adding loft, you're closing the clubface and when reducing loft you're opening the face. For that reason, the SureFit adjustable hosel should be used to fine tune performance as the last step in the fitting process.

Q: How can I get fit for a Titleist 818 H1 or H2 Hybrid?
A: The best way to get fit for a Titleist 818 H1 or H2 hybrid is to schedule an appointment on our fitting website, fitting.2ndswing.info, or to call (612) 216-4152. A member of our award-winning staff will work one-on-one with you to identify your swing tendencies and determine which 818 hybrid in our massive selection is right for your game.