Four Steps to Choosing the Right TS Fairway:
Should I play TS2 or TS3 fairway woods?
How many fairway woods should I have?
What lofts should I be using in my fairways?
What type of fairway wood shaft do I need?
Titleist TS Fairway Woods:
Bringing More Speed To Your Game
Like the TS drivers, the TS fairway woods from Titleist were created with one thing in mind: to give golfers more speed. Titleist engineers achieved that goal in numerous ways, and not only do the TS fairways deliver more ball speed out of the center of the face, they deliver more ball speed on mis-hits. Where does this infusion of speed come from? The key speed-enhancing technologies are a thinner clubface and modified Active Recoil Channel, the latter of which better protects ball speed on off-center strikes. Also of note, TS fairways feature the thinnest crown Titleist has ever constructed in a fairway wood, which allowed weight to be redistributed to improve MOI, and there are two unique models -- TS2 and TS3 -- to choose from to meet the needs of any player. Add it all up and you have fairways that are long, playable, and forgiving, which is what every golfer is looking for. All you have to do is decide which model is the best choice for your game, and we're here to help you make that decision.
Exclusive Titleist TS Fairway Wood Video Content
TS Fairways:
Exploring the Tech
Learn more about what fuels performance in the TS2 and TS3 fairway woods and how each model will suit different players.
Picking The Right
TS Fairway Shaft
Titleist Vice President of R&D Dan Stone discusses the stock shafts in the TS metalwood line to help you with your choice.
Exploring Titleist's
SureFit Hosel
2nd Swing's Thomas Campbell explains how Titleist's SureFit hosel helps optimize performance with your TS metalwoods.
| | TS2 Fairway | TS3 Fairway |
| --- | --- | --- |
| Handicap | Low/Mid/High | Low/Mid |
| Head Size | Larger | Smaller |
| Spin Characteristics | Higher | Lower |
| Launch Characteristics | Higher | Lower |
| Workability | Lower | Higher |
Shop Titleist TS Fairway Woods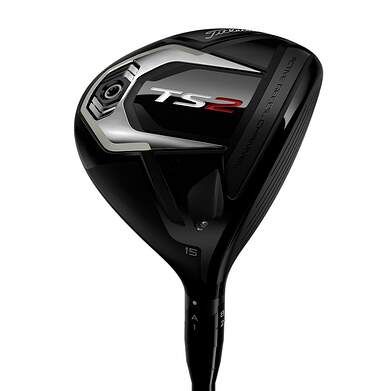 Certified Pre-Owned
From $71.99
New From $299.99 // Save $225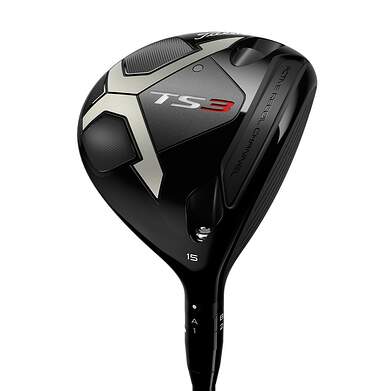 Certified Pre-Owned
From $139.99
New From $299.99 // Save $160
Titleist TS Fairway Wood Selection FAQ
Q: How do the TS2 and TS3 fairway woods differ?
A: TS2 and TS3 fairway woods share ball speed enhancing technologies, but there are differences as well. TS2 fairways feature a larger, more modern footprint that was designed to maximize forgiveness, and they also have weight positioned low and deep in the clubhead to promote high launch and low spin. Meanwhile, TS3 fairways are more compact to encourage workability. They also feature a slightly deeper face, which creates a flatter trajectory. Most notable, however, is that like the TS3 driver, the TS3 fairways offer Titleist's SureFit CG to help golfers achieve the exact launch and spin conditions they want. TS2 and TS3 fairways are available in lofts of 13.5, 15, 16.5, and 18 degrees, and the TS2 also offers a 21-degree model.

Q: How should I approach choosing the right head design?
A: That process starts with determining what you are looking for from your driver on the golf course. Do you need as much forgiveness as possible? Do you need to lower your spin rate? Do you struggle to generate swing speed? Once you identify your needs, the decision should become fairly obvious, but you can always contact a 2nd Swing certified fitter at 612-216-4152 for more assistance if this page doesn't provide a clear answer.

Q: How many fairway woods should I have in my bag?
A: That answer will vary but for most the number will range between one and three. Figuring out the right number for your bag will come down to how many slots you have available between your driver and your longest iron and how you want to fill those slots. In the TS fairway range, golfers who enjoy the playability attributes of fairway woods could easily play a 3-wood, 5-wood, and 7-wood. Other players might want two fairways in their bag, one that's primarily a club used from the tee and the other from the turf, while others might carry just one fairway wood and opt for hybrids or utility irons to fill other gaps. What's most important, however, is that each club fills a different role on the golf course, so adopt that mindset before adding any club to your bag.

Q: What's the best way to determine the fairway wood lofts I need?
A: That process starts with determining what you want your fairway woods to accomplish. For example, if you primarily hit a 3-wood off the tee, going with a stronger-lofted model for that task would be a good choice. That said, if you put a 13.5-degree 3-wood in the bag as your tee club, the logical move might be to then add a 16.5- or 18-degree fairway to provide more versatility and better gapping. Also, many golfers struggle to hit fairway woods from the turf because they don't use enough loft or have the speed to generate high launch. If you fall into that category, try a 4-wood (16.5 degrees) or 5-wood (18 degrees) instead of a traditional 3-wood. With the higher launch and longer carry distance you'll get, you'll likely hit it just as far more often than not.

Q: What's the best choice for me if I have a hard time hitting fairways from the turf?
A: If you struggle to elevate the ball from the turf with a fairway wood, you're not alone. It's one of the most common problems for golfers. If you fall into that camp and want to play TS fairway woods, the TS2 is definitely going to be the best option for you. More specifically, TS2 fairways were designed to help players launch the ball more easily thanks to a low, deep CG poston and a larger footprint that features a more shallow face. Also, as mentioned previously, if getting the ball in the air is a challenge for any reason, think about going with more loft. There's no rule that says you need a 3-wood in your bag. For many players, a 4- or 5-wood will produce longer carry and total distance numbers while also providing more forgiveness.

Q: Are the TS3 fairway woods only for low-handicappers?
A: No. Certainly many better players are likely to gravitate toward TS3 fairways because of their traditional shape, enhanced workability, and increased customization. Those players will also like the fact that they can flight the ball lower with TS3 and that the slightly deeper face makes it a great option from the tee. But there are plenty of mid-handicappers who will appreciate those same performance attributes, as well as those who simply need to lower their spin rates to maximize distance. And for players who are looking to use a fairway wood as their primary club off the tee, TS3 models in 13.5 or 15 degrees will prove to be excellent options.

Q: How do fairway wood and driver shafts differ?
A: The biggest difference between driver and fairway wood shafts is weight. For example, the stock shaft options that Titleist offers in the TS2 and TS3 drivers are the same stock options that are available in the TS2 and TS3 fairway woods; the fairway options just come in profiles that are 10 grams heavier. The reason for that is to keep the swing weight where it needs to be in what will be a shorter golf club. Beyond that, in addition to a heavier weight, there are also some players who will choose a different launch and spin profile for their fairway wood shaft when compared to their driver shaft because they're looking to achieve higher launch conditions from the turf to maximize carry distance.

Q: How do I pick the right fairway wood shaft if I can't get professionally fit?
A: We encourage everyone to get fit but understand it's not always possible. If you're looking to fit yourself for the best fairway shaft possible, picking the correct flex and weight is crucial. As a general rule, players with faster clubhead speeds will get better results with stiffer and heavier shafts, while golfers with less swing speed will benefit from lighter, more flexible shafts. There are exceptions, however. Those with longer, smoother swings can benefit from a lighter, more flexible shaft, while players with compact swings and fast transitions will often fare better going heavier and stiffer. All said, consider how much speed you generate along with your tempo when picking a shaft, and if you need more help in making the right choice for your game, call 612-216-4152 to speak with a 2nd Swing certified fitter.

Q: How does the Titleist adjustable hosel work?
A: The SureFit hosel has been a popular and successful feature with Titleist metalwoods for several generations now, and its availability in the TS fairway woods gives golfers 16 settings that they can take advantage of to dial in performance. More specifically, loft can be increased by 1.5 degrees or decreased by .75 degrees, and players can also make independent lie angle changes to influence ball flight. That said, it's important to understand that making loft changes using the SureFit hosel also changes face angle. When adding loft, you're closing the clubface and when reducing loft you're opening the face. For that reason, the SureFit adjustable hosel should be used to fine tune performance as the last step in the fitting process.

Q: What are the advantages of being able to change lie angle with the SureFIt hosel?
A: Creating as much versatility as possible with your clubs should be the goal for every golfer. For many, that means having a driver and fairway woods that create different shot shapes. It's something you see in professional golf all the time, as many players will opt for a 3-wood off the tee when they need to play a draw, a shot made easier with more loft. The SureFit hosel can also make it easier to create a particular ball flight by changing lie angle, as more upright lie angles promote a draw bias and flatter lie angles promote a fade bias. Additionally, you can add or decrease loft to change face angle and further influence shape, which will allow you to produce a shot that might be tough with your driver and help you shoot better scores.